Throughout history, bookmobile founders have often had a similar goal — bringing literacy to the masses.
Taking It To The Streets!
KBTI introduces the nation's first Braille Mobile!


Within the greater Wichita area (to begin with) the Braille Mobile will distribute children's books to schools, learning centers, libraries, hospitals, and homeschooled blind students. The books will maintain all text, color, and illustrations, in braille and tactile graphics where appropriate, at NO Charge!
Area authors' of children's books will be invited to submit their works for consideration. If chosen, their books will ultimately be reproduced to Braille and distributed as described above.
Selected authors will be featured on the KBTI website and other social media outlets. One such book already reproduced to Braille is: "You're Too Big To Think Small" written by Ron Baker, Wichita State University Basketball Great, now playing for the New York Knicks!
Area celebrities, elected officials, even chosen authors themselves we will be invited to participate in readings of selected titles at a variety of locations, or appear at established events.
To be a part of this history making project, contact any author of children's books you might know and tell them about this project. That's a good place to start. Invite your friends and family to participate. Inquire of local establishments if they provide printed information in alternative formats, i.e., Braille, large print, audio. Let them know KBTI does, efficiently and inexpensively. Ask local establishments to prominently display a Tactile Braille American Flag in support of this project, and direct them to kbti.org to obtain one or more.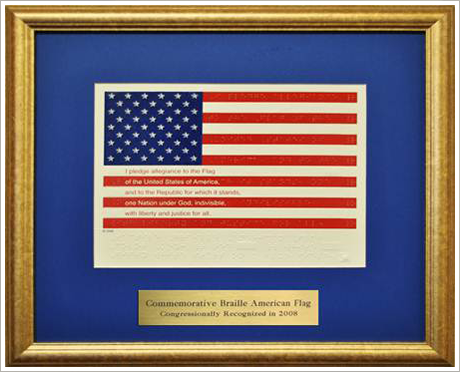 Donate at this page, or contact us.
Your support helps give the gift of literacy to a child who is blind.